A few months ago I had the great pleasure of visiting the office and studio of Just Another Button Company. To say I fell in love with their buttons is an understatement.  I also fell in love with the fun shaped pincushions featuring their buttons that they have displayed all over the office.  When I went home I simply could not stop thinking about them.
My first pincushion was a simple round pincushion made to feature a stitchery project.  I loved it, but I was itching to make something more elaborate.  One night I was surfing eBay looking at vintage Putz Christmas Houses when it hit me, I wanted to make a pincushion cottage!  I LOVE little red roof cottages with round top doors.  There is an English style cottage in my neighborhood that Emma and I call the Storybook Cottage.  Bits of that house and bits of others like you see in vintage story books all came together to inspire this cottage.
As I worked my pincushion I shared photos on Facebook and Instagram. I was overwhelmed how many people spoke up and asked me to make it into a pattern to share.  Although I have shared tutorials for years, I have never patterned a project like this and it intimidated me a bit.  But and let me tell you, I loved every minute of it and I am already dreaming of my next pincushion cottage to make and pattern… a Bitty Bungalow based on my own 1923 bungalow.
If you are smitten and want to make one too, the pattern is now available in my download shop!  Simply click below on the shop link to buy and download.  Everything is delivered by download. You get 19 pages of full color step-by-step instructions, 3 pattern pages, and 2 extra instruction pages.  The download includes a full supply list too.
AND… my friends at Just Another Button Company have created button and pin packs that include the buttons I used.  I will update the supply list below with direct links as soon as they have them added to their store.  Until then, you can get the buttons a la carte in the supply list below or simply contact them and ask for the Storybook Cottage Button Pack 10310 and the Storybook Cottage Pin Assortment JP213.  The button pack includes all the clay buttons I used (the bird, the frog, the ladybug, and heart) and the hand-dyed minis I used for the hearts on the flower boxes and the door knob.  Please note, the buttons on the flowers are NOT included in the button pack.  Because I used an assortment of colors I wanted to keep those separate so that you could choose the colors you wanted.
The download includes 19 full color step-by-step instructions with photographs, 3 pattern pages, and two additional assembly guides. All pages are pdfs and print to 8.5″ x 11″.
PS. You can also find this pincushion in my Etsy and Craftsy shops!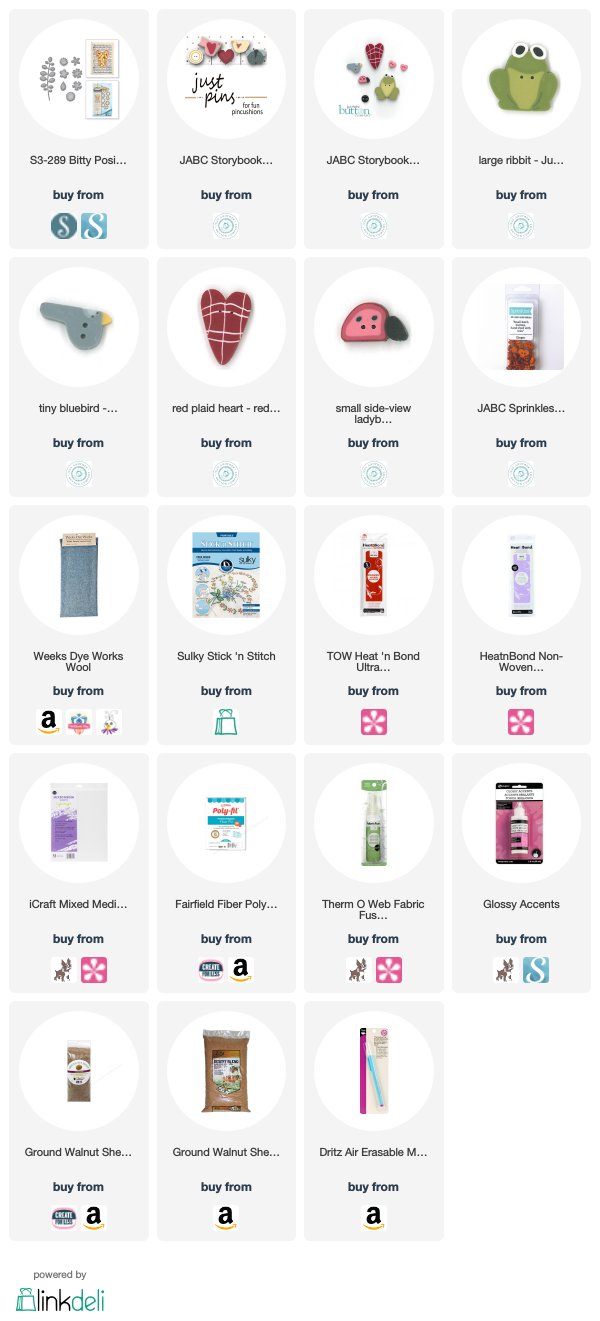 SaveSave
SaveSave