Welcome back to day two of my Sew Sweet collection début!  I hope you loved all the new stamp sets I showed you yesterday!  Today I am super excited to show you my new die designs.  I have daydreamed about these dies for almost a year and can not believe the time has come to finally show them to you.
I was telling you yesterday about how I wanted this collection to really convey the love and importance of everything handmade.  With that in mind, this die collection is really about being multi-functional.  I designed it while daydreaming about designs you could use for papercrafts and stitchery.  Today I will be sharing the papercrafting projects my sweet friend Debi Adams made for the packaging and then tomorrow will start sharing some of the things I made using them with fabric!
First up is From Heart and Hand, a super cute mini tag die with a scallop edge and embossed stitch.  It comes with three super cute hole reinforcers and includes a mini heart and hand to layer together.  And guess what… the Sew Tiny Sentiments fit on the tag too!
 I love this little set of Sew Sweet Sentiments.  It is the first time I have done word dies from my hand lettering and I absolutely love how they turned out!  I definitely plan on doing more in the future.  The words are great as singles and can be paired up to make combos like sweet heart, with love, my love, and more!  The set also includes a cute mini heart with a matching scallop backer that layer together.
 Okay, this is some serious fun and versatility packed into one fun set.  Sweet Tweets includes 21 dies in one set!  The largest is an almost 6″ x 6″ frame that will fit onto a large square card front.  There is a border die with an embossed stitched edge that nests right inside the scallop.  The pieces inside include all that you need to make the cutest itty bitty bird ever.  There is a bird house with a roof that you can pair with it.  There is a branch your bird can sit on.  And of course there are lots of itty bitty poses to embellish it all.  The tiny circles are for flower centers, but you will find that brads and tiny buttons are super cute centers too.
Posies and Pennies is another 6″ x 6″ set that is packed with dies that are super versatile.  This set is inspired by penny rugs that are a popular in appliqué and stitchery.  I will talk more about using these for stitchery tomorrow.  The large outer border with scallop edge fits on the front of a large square card and can even be used for a card base when cut on the fold (I'll share a video of that soon).  Next is a rectangle mat with an embossed stitch.  Inside you have an assortment of tabs and tags, posies, a leaf, and circles (pennies) that double as flower centers.  The round top tag also doubles as what penny rug makers call a "tongue"!
Perhaps you know of my love of vintage trims, things like ribbon, ric rac, and lace.  I thought for a long time that it would be wonderful to have a set of dies with all my favorite vintagey edge shapes that would let me cut my own trims from paper, felt, and fabric.  This Sew Sweet Trims is a total dream come true!  Each border is nearly 6″ wide so that you can use them for any size of card or tag.  Maybe you see a theme here with the 6″… yes, these trims all fit nicely on base pieces of the other dies in the collection making them fun to pair together for extra layers!
The final die in the collection is the Sew Sweet Valentine set that includes 14 dies!  I love hearts and have loved making small stuffed heart pincushions forever.  I always wished I could have a fancy edge for them but never wanted to try cutting one by hand.  That is what is so fabulous about dies, you can cut a shape you would never dare try by hand!  This heart features a scallop eyelet base and a solid heart that is slightly smaller.  Use them alone or layer them together for the sweetest layered heart.  Accessories include a banner that fits across the heart and an assortment of posies.  Of course like the other sets, there are itty bitty circles included that you can use for posie centers.
You may be wondering about all the posies in these sets and if they are the same size… they are not, they are all staggered so there is no duplication.
Posies and Pennies is the largest, followed by Sew Sweet Valentine, and Sweet Tweets is the smallest.  If you have my Bitty Posies set, it is smaller than Sweet Tweets.  If you love posies on your projects, that gives you four sizes of my posie shapes!  I have added in a die from Posie Parts (retired) in case you have it and want to see where it fits in.
Tomorrow I will start sharing a look at some of the stitchery projects I made for the collection début using felted wool.  I love making "things" and had the best time making these samples.  I can not wait to tell you more about them!
Remember, this collection debuts this month at the craft industry trade show and then ships in February.  Store owners will be at the show placing their orders for new products.  If you love this collection, please ask your favorite local or online store to carry it.  This collection is such a passion project for me and I have so much to share with you in the coming months with it including a Block of the Month!  If you want to craft and stitch along, be sure you let your store owner know!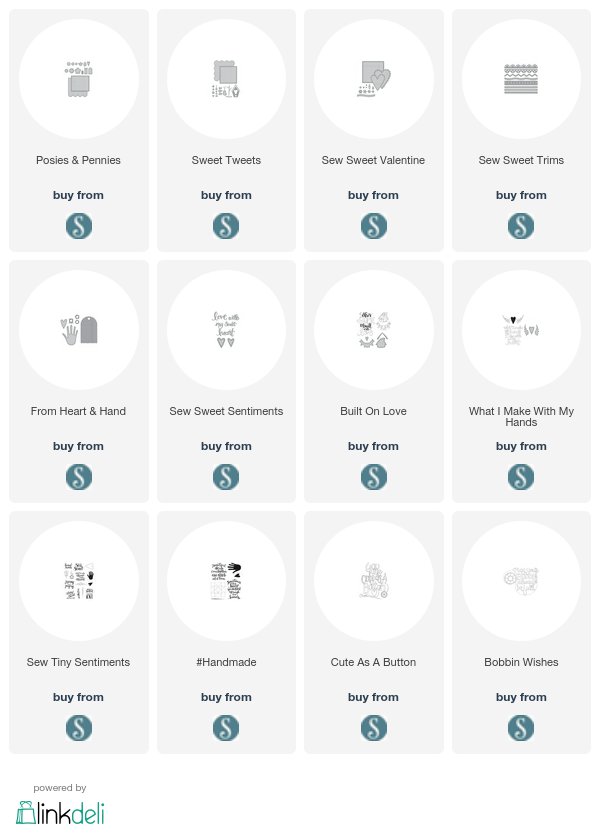 SaveSave