I don't want to brag, but I am kind of getting the hand of this video making thing!  They are getting easier and the editing isn't taking me hours any longer!  I still have a hard time watching them back, I am a bit self-conscious of how much I ramble on or how loud I breathe, but all in all, I kind of think I am doing ok!  Next up on my video list was to show you how to create a multicolored plaid background using the Mad For Plaid stencil.
The really cool thing about this stencil is that the background looks time-consuming, but it isn't!  It takes just minutes to create!
And look at how fun it is when finished?  I love it in multiple colors, but I also love it with just one or two.  Oh, and wait until you see it in paint… that's for another day though.  Today, join me as I show you how to create a multicolored plaid with Distress Inks.
How easy and simple was that?
In this example I used Stephanie Barnard's Colorbox inks. They work well for blending and come in really happy colors.
One trick you may want to use when working with really bright colors in your plaid is to add a layer of vellum over the background.  It will soften and mute the colors under your focal point so that it remains the focus and doesn't have to compete with background.  You could use a layer of cardstock as well, but I love that the vellum lets you see what is behind it.  It acts like a filter to soften and draw your eye to the main event.
Did you notice the super cute little layered bandage?  It is my new Get Well Soon stamp and die set.  It includes the bandage stamp, a separate sentiment, and three dies so that you can layer the three parts of the bandage.  I added adhesive foam under the center part of the bandage to help pop it up and draw attention to it.
I will be back tomorrow with another Quick & Easy card idea featuring a new Happy Grams 3 stamp.  I hope you will come back by to check it out!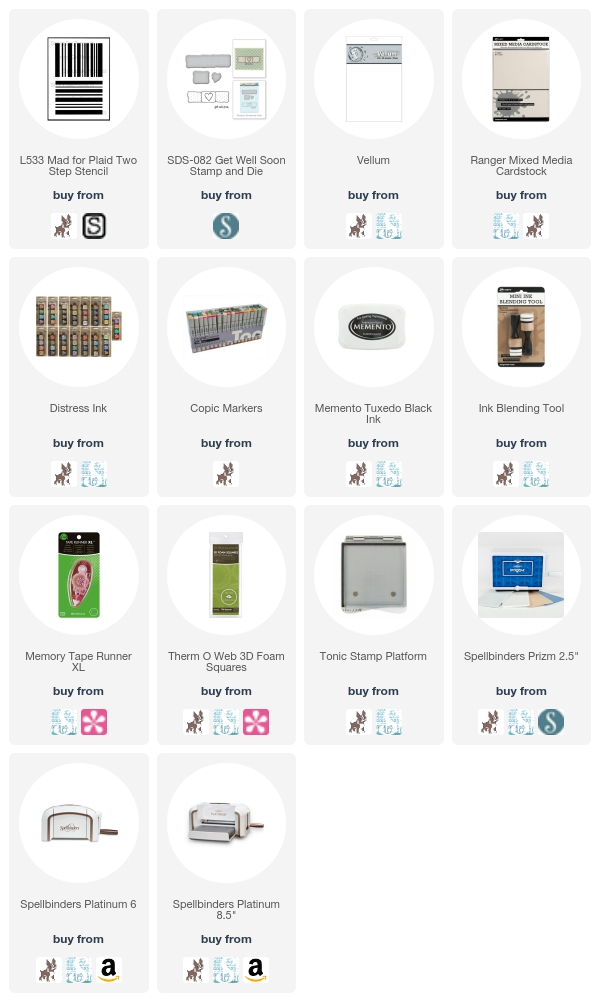 SaveSave
SaveSave