Hooray!  Mid-month means it is time to show off a new exclusive art card project featuring the fabulous and fun Just Another Button Company Button Lover's Club!  January boxes ship on the 15th and features such a fun mix buttons that capture everything frosty!
 To create the card shown above using the exclusive art card included in the club box, you will also need:
kraft cardstock 9 1/2″ x 6″, folded in half to create a top fold card
pattern paper 5 3/4″ x 4 1/2″
vellum 5/34″ x 4 1/2″, trimmed slightly smaller
Use an ink blending tool to apply brown ink around the edges of each piece.
Adhere the vellum to the top of the pattern paper piece.
Machine stitch around the edges of the two adhered pieces.
Adhere the art card to the top of the stitched piece.  Adhere the art card/stitched piece to the top of the kraft card base.
Now it is time for the fun!  Every button in this month's box looks awesome on the card right below the lower banner.  Check out the two snowflake charms…
the cup of hot chocolate and marshmallows…
maybe add a cookie…
the super cute large snowman…
maybe a pair of small snowmen and a fun carrot for a nose…
the warm wooly cap and snowflake…
once you decide what you want below the banner, consider adding the small snowflake flower buttons to the banners…
 or maybe add a small button to the corners.
Use a small dot of glue behind each button to secure it in place.
Use a piercing tool or needle to poke through each button hole, piercing through all the layers of the card.  Use a needle and thread to stitch each button to the card.
So cute, right?  I seriously adore this month's buttons!
If you want to grab one of this month's boxes and join the club, you have to act fast- they ship this week!  If you love the buttons but are hesitant to join the club, you can always pick them up ala carte in the Just Another Button Company online store.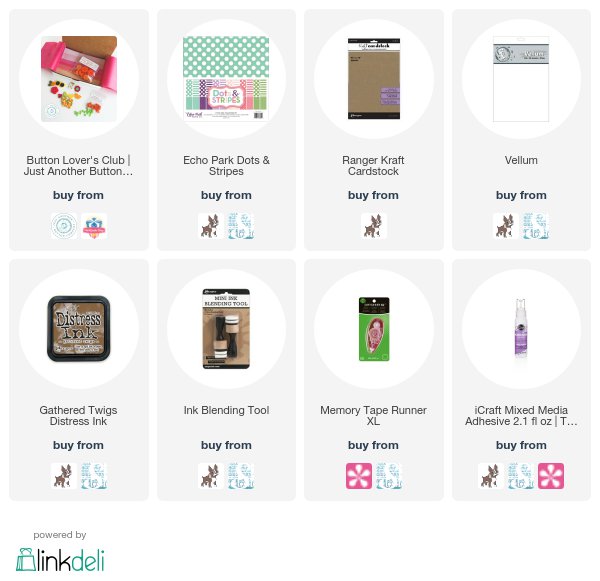 SaveSave
SaveSave