I have to tell you, I am having so much fun working with Just Another Button Company's Button of the Month Club.  Each month I create an original illustration that can be embellished by the buttons in the box.  I love to spread all the buttons out on my drawing desk and ponder them.  Sometimes the phrase for the lettering comes right away, sometimes it takes a few days.  This month I kept pondering the buttons and focusing on the word "scary".  I kept thinking that they were just too cute and delightful to be scary.  And then as I laid in bed it came to me, frightful and delightful were the perfect words for the these "scary" buttons.
Okay, let's take a look at this month's card tutorial…
Cut a purple piece of cardstock to 5.5″ w x 4.25″ h.  Brush the edges of the cardstock and art card with black ink.
Adhere the art card to the cardstock.
Each month I try to draw the card so that there are several ways to use the buttons.  The pumpkin looks really cute in the lower left corner.  I didn't photograph it, but the bat works great on the swoosh above the "and".
The tombstone also is super cute in the lower left.  The ghost happens fit perfectly in between the two lines of the swoosh above the "and".  (wink)
The cauldron is my favorite in the lower left.  It looks like the bubbles are bubbling up from it.
The assorted Sprinkles are the perfect size to mix in with the bubbles.
Once you have your buttons selected and the placement decided, add a small drop of glue to the back of each to secure it in place.
When the glue is dry, place the card on a foam mat.  Insert a needle or piercing tool to pierce a hole through the paper layers going through the holes of the buttons.  Sew through the holes and buttons with a needle and thread.
Cut a pice of black cardstock to 5.75″ w x 8.75″ h.  Fold it in half.
Adhere the the art card/cardstock piece to the black cardstock card.
 Add a small staple along the lower right corner to "attach" the card front to the card.
I can't decide on this one, is the bubbling cauldron my favorite element…
 or that cute little ghostie floating about?
I think this might be my most favorite of the Button of the Month Club cards so far.  I just love the fun mix of colors and the super cute "scary" buttons!
Don't forget, button club boxes ship on the 15th of each month and sell out fast.  If you want one, you need to act fast and get yours!  Don't want to commit to a club?  The buttons are all ala carte' too in the Just Another Button Company shop.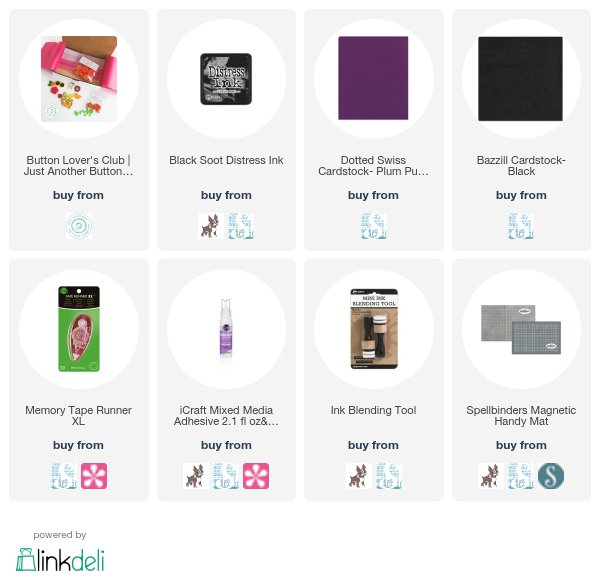 SaveSave
SaveSave
SaveSave
SaveSave