Hello friends!  I hope you had a good weekend and had a chance to sneak in some creativity.  I spent the weekend editing new stamp images.  I am so excited for some of the new images coming up.  Today's card is so appropriate because I have some fun new things happening with my art that makes me smile and do a little dance every time I think about them.  Seriously, I feel a party coming on!  I'll share more about that soon.  First though, let's look at today's card…
 When it comes to making cards, I am a fan of quick and easy.  Today's card starts with a basic cream cardstock card base.  I cut a vellum strip to fit on the front of the card.  I used my Polka Party stencil with Distress Ink to add polka dots to the vellum.  (Tip- be sure the ink is dry before handling.)
I adhered the vellum ink side down on the card to help prevent any possible smearing.  I added machine stitching along the edges for extra detail.
For the top card layer I stamped the image on white cardstock and colored it with Copic markers.
The Party stamp comes with three dies.  One cuts out the whole hat (minus the tassel), the second cuts out the just the cone part of the hat, and the third cuts out the tassel.  For this card I die cut the hat and tassel.
I used adhesive foam to pop up the die cut hat from the surface.  You may notice that I color all the layers from the base to the different pieces all the same.  I do that so that you see the image colored from every angle.
I added a brad to the center of the tassel die cut and used an itty bitty piece of adhesive foam to pop it up from the surface of the card.
Isn't this stamp so fun?  I love that it can be used for so many themes.  It isn't too childish or mature, making it a great image for all ages!  All you need to do to make it fit the theme is to change the color scheme!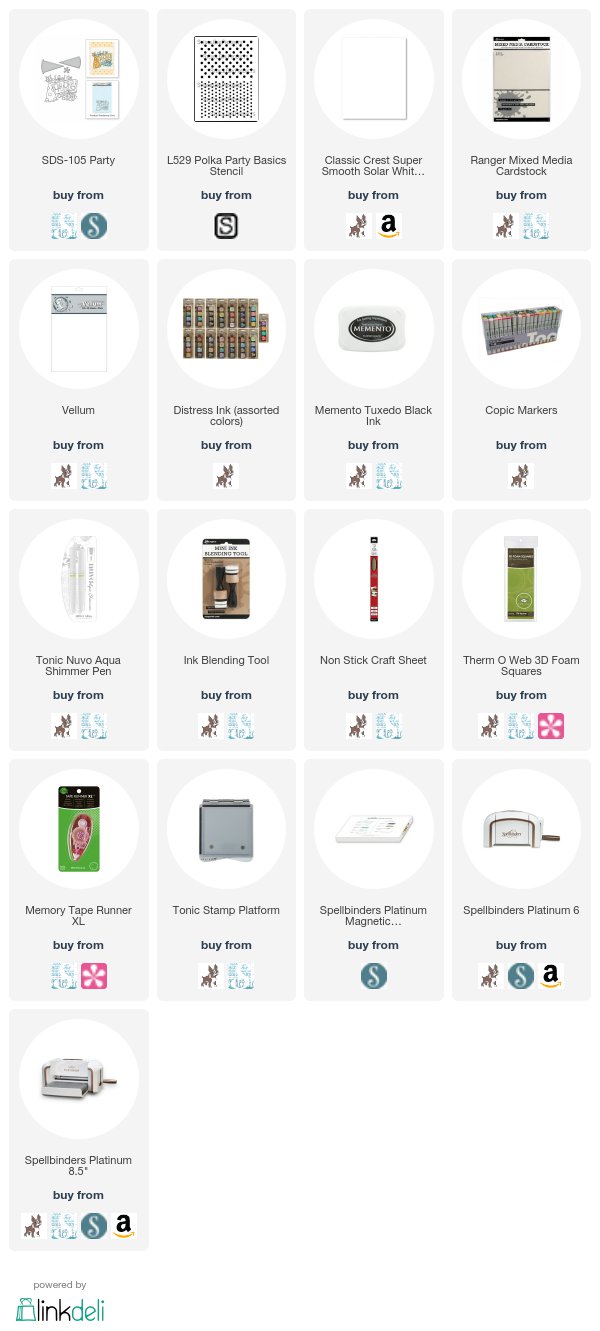 SaveSave