Are you a button lover?  I am!  I love to use them on projects and in dishes as decor in my studio.  I confess, I can get mesmerized just running my hands through a bowl full of buttons.  If you are like me, you are going to LOVE the club I am going to tell you about!
I recently met a really wonderful mother-daughter button making team.  I became aware of Just Another Button Company after the Craft & Hobby Association show in January.  A friend shared photos from their booth and I fell in love with their handmade and hand-dyed buttons.  Imagine my surprise when I discovered their studio is only about 15 miles from where I live!  I have visited a few times now and I simply can not get over all the button treasures there.  I feel like a kid in the best candy store in the world!
If you are smitten like me, then you are going to want to know about the Button Lover's Club.  It is a monthly treasure box that has the most wonderful mix of hand-dyed and hand sculpted buttons.  The second year of the club is starting this month with June's kits shipping starting June 15.  They sell out fast so if you feel tempted, you have to sign up right away!
For the second year, the JABC crew has added something new to the kit box… an exclusive full-color art card illustrated by ME!  This fun little card is perfect to frame or craft with.  Each month I will be creating a project tutorial combining the art card and buttons.
This month the illustration features the name of June's kit, Red, white and Blue-tiful.  For this month's project, I made a quick and simple card that incorporates several of the kit buttons.
To create the card, begin by lightly brushing the edges of the card with Gathered Twigs Distress Ink.
Adhere the card to a piece of cardstock.  Trim the cardstock so that you have about a 1/8″ border on each side.
Add a line of machine stitching around the edges of the art card.  Use liquid glue to adhere buttons as desired onto the card.  Therm O Web's Mixed Media glue is excellent and adhering items like buttons to paper.
When the adhesive is dry, use a piercing tool to poke holes in the cardstock through the button holes.
Having pre-pierced holes and buttons that are already secured makes sewing thread through the button holes.
I made this card, start to finish in under 10 minutes!  The bulk of that time was waiting for the adhesive to dry!  The hard part? Deciding who to send the card to!
I can not tell you how thrilled I am to be working with Just Another Button Company.  I am ecstatic to have a bit of my art included in their fun little monthly box.  From the outer wrapping to the inner packing, each box feels like a little present to yourself!
Hurry, June kits begin shipping on June 15th so if you want to get in on the fun, act fast and sign up at: Button Lover's Club.  While you are there, be sure to check out the other fabulous handmade buttons that Just Another Button Company has in their shop.  Prepare to become addicted! (wink)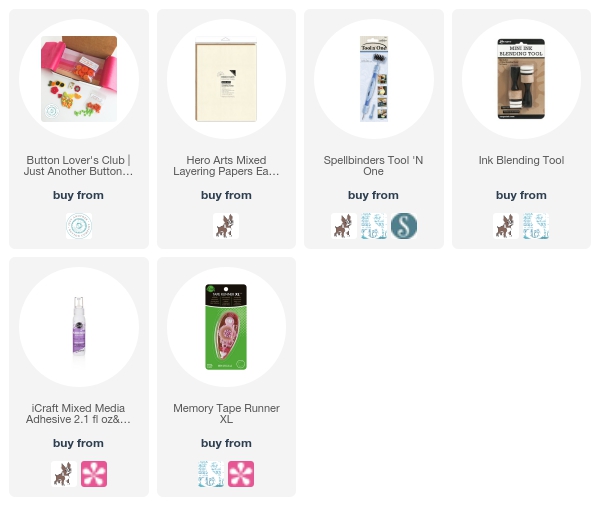 SaveSave